How to drive traffic to the dating vertical: results for 2021 and forecast for 2022 by Affmy team.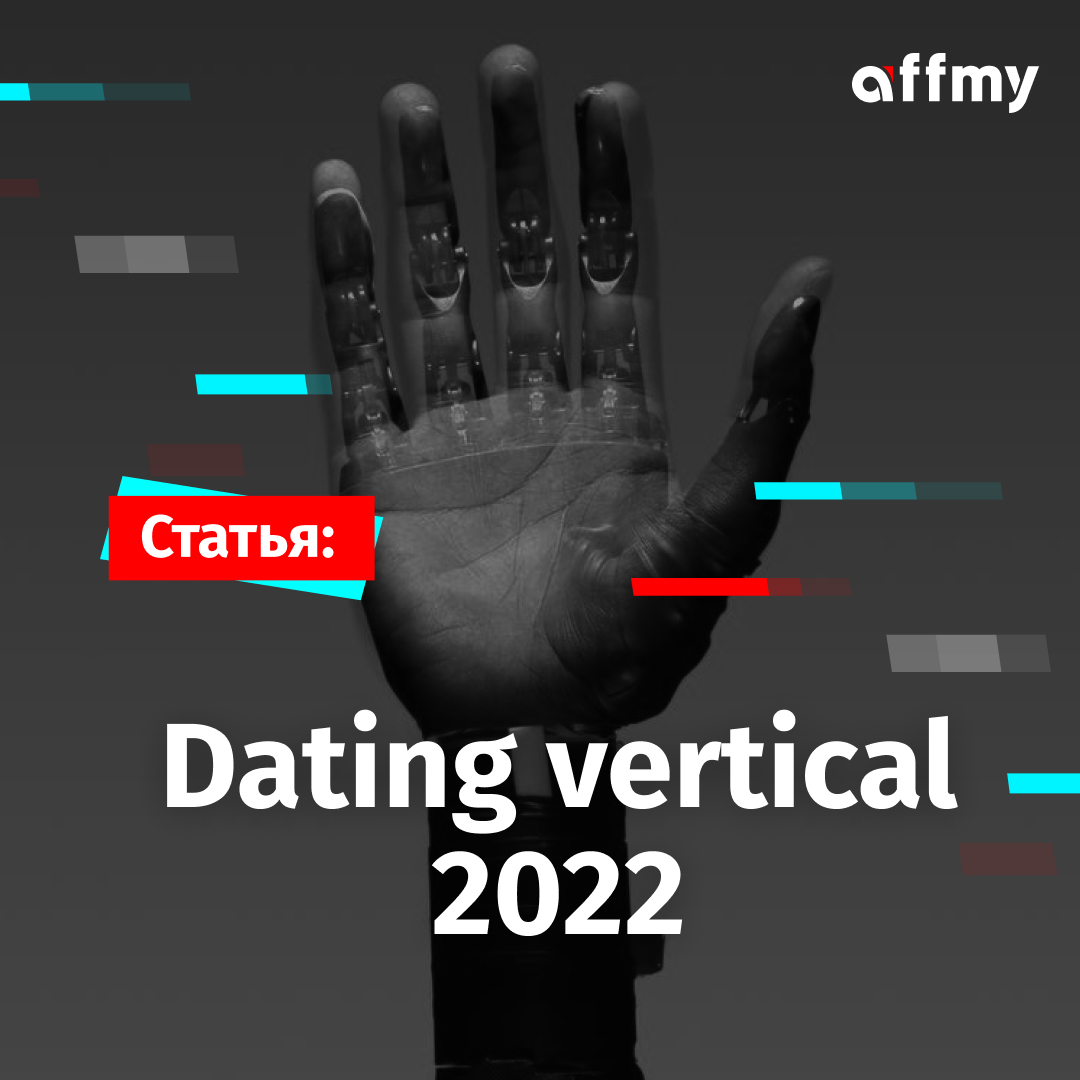 It's hard to believe that 2021 is over. And the end of the year always means summing up and dreaming about the future.
Of course, we cannot be 100% sure, saying what exactly 2022 will be for the dating niche, but following the trends and according to the conclusions we made last year, we can mark key points that everyone who drives traffic to this vertical should pay attention to.
We talked to our affiliates, got a lot of useful information about their work and prepared tips for those who drive traffic to the dating vertical now and who are planning to do it in 2022. And of course, we summed up the results of our work for 2021. So, let's go!
What is the dating niche about and why is it worth driving traffic to it?
Dating is the most stable vertical that is not subjected to dramatic changes. If you drive high-quality traffic, you can always get a profit. Beginners wrongly assume that this is a simple vertical and often choose this very niche to start driving traffic to, and of course, they get burned. Dating is a very competitive niche, new affiliate programs appear every year, the number of advertisers and offers is growing, together with the number of media buyers. The volumes increase - the number of people who want to earn money with this niche also increases.
Dating app usage statistics for 2021.
Forecast of online dating in the US up to 2024.
Global online dating forecast up to 2025.
If you like working with creatives and making new cases and schemes, dating is definitely for you. But be ready for the fact that it will be difficult for you to earn a huge sum of money without knowledge, as elsewhere.
How has the pandemic affected the dating niche in 2021?
No doubt, the pandemic has hit everyone. But everyone who works with dating got benefits from this situation: people began to communicate online more, so the market has expanded, and traffic has become cheaper.
Read more about changes in the dating niche and the impact of the pandemic on this vertical in our article.
From the start of the pandemic in 2019 everyone was anxious that the dating market was supposed to sink but as it turned out, online dating has become even more top-requested. We see the growth in the period from 2020 to 2021, and we can say with a large degree of certainty that now the situation is not about to change.
What GEOs did you work with in 2021, how did they prove themselves, and what should you work with in 2022?
Chiefly, our partners worked with Europe (Germany, Poland, etc.) but the US showed the best results. It makes sense to keep developing with the US in 2022, but also do not forget about new GEOs. Actually, you can drive traffic to anything you have in the dating vertical. The vertical can bring high profit from both developed and developing countries.
How has push traffic performed in 2021 and what to expect from it in 2022?
Affiliates used all types of traffic in 2021: banners, native, pop-unders, push notifications. But the priority was push traffic. When you work with it, the most important thing is not used creatives, but mostly the source of traffic and ad campaigns optimization, because creatives mainly work in a standard way. But here's a tip: make creatives exceptional, play with pictures - both mainstream and casual creatives can bring high profits.
Here we will tell you where to get creatives for the dating vertical.
The results of work with smartlink in 2021. What can we advise?
Affmy acquired smartlink in 2021! It enables media buyers to operate automatically, that is surely much faster and easier than setting everything manually. It is very difficult to monitor traffic and optimize it 24/7, and smartlink makes it possible to spend much less time at work. Traffic is working while you are resting.
At the start, smartlink gives lower ROI compared to the one made manually. But it has an advantage: if the conversion of offers doesn't change, smartlink excludes them from work and automatically selects others, more profitable ones. In simple words, if ROI does not grow, the smartlink optimizes traffic on its own.
It is very simple to work with it: take a link and drive traffic to it. Altogether smartlink is a must-have in 2022!
Read more about what smartlink is and how to work with it in our article.
What are the dating trends for 2022?
We advise you to drive traffic to all sources, look for non-standard approaches to creatives and cases. Especially test TikTok, as it has performed well in 2021 and is gathering steam. And, of course, drive it to smartlink and Instagram.
What do we expect as a result of work with the dating vertical in 2022?
The dating market has grown in 2021 and will continue to grow in 2022. It is a fact.
If you drive traffic to dating, keep testing new GEOs, smartlinks and, of course, keep scaling!
Here is the forecast from Affmy team for 2022:
The vertical will grow in volume in 2022 since the popularity of online dating gathers more steam every year. Break into the niche and drive traffic!

Smartlink is a must-have for those who don't want to work 24/7.

Top GEO - the US. Europe will fortify its position.

New GEOs from developing countries will break through as their economics and internet access

keep

growing.

As always, unusual cases will bring success.
In summary, drive traffic to the dating niche, test new cases, GEOs and offers. We wish you high ROI and only a few rejects in 2022!