Why do you need a tracker for traffic media buying? We will analyze how it works using the example of Keitaro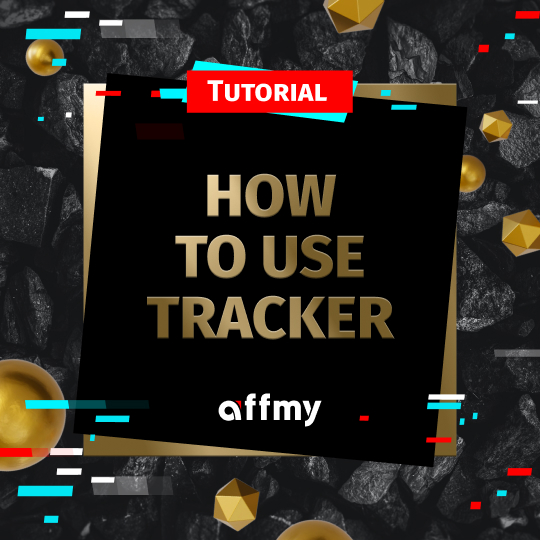 Hey everyone! Seeking big money, freshers get all kinds of utilities very often without understanding how to use them. Before you dive into media buying up to the hilt, you need to study out what are the services for your work and how to use them. Now we will have a look at such an instrument as a tracker.
Why do you need a tracker for traffic media buying? We will analyze how it works using the example of Keitaro
Hey everyone! Seeking big money, freshers get all kinds of utilities very often without understanding how to use them. Before you dive into media buying up to the hilt, you need to study out what are the services for your work and how to use them. Now we will have a look at such an instrument as a tracker.
What is a tracker?
The tracker is an instrument for traffic monitoring and optimization. We can see different stats summaries and optimize an ad campaign (AС) with the help of all kinds of different parameters.
The tracker is the most helpful when you work with push notifications or native advertisements, you won't be able to make campaigns profitable without it.
It is useful for other types of ads too: you can monitor all costs, clicks and conversions in one place, as well as split several offers, and many other things. But first things first.
Tracker types
There are two types of trackers: cloud and server. Let's look at each of them closer.
A server tracker works with users' servers. We should spend some time buying and setting it but often there is nothing difficult about it.

The advantages of this type of trackers:
You pay only for your license, regardless of what traffic volume passes through the tracker: 100 or 1000000 events.
All data is stored at your computer, there is no possible data leakage.
Ping is high, you can work quickly.
The undeniable disadvantages:
Linkage to the region. If the server is in Asia, and you want to work with Europe, the download speed will be slow, which means that you can lose some traffic.
High costs during scaling. If you want to avoid traffic loss, you have to buy a separate server and tracker license per region. Some trackers provide you with a discount for second and following licenses but you can't get rid of additional investments.
Samples of server trackers: Binom, Keitaro.
A cloud tracker enables you to keep all your data in a cloud. You do not need to set and maintain the server on your own.
The advantages of such a tracker:
It's easy to launch and use.
You can drive traffic to any GEO: speed will be stable, as the server isn't connected to a certain location.
You can change GEO, without fear of losing traffic.
We can refer the following to disadvantages:
Limited tariff plan. If you exceed the agreed volume of events, you have to make an additional payment.
Here are some examples of cloud trackers: Peerclick, Voluum, RedTrack, AdsBridge, BeMob.
How to choose a tracker?
You should estimate your needs correctly when you choose a tracker. If you change GEO often and if you have a small volume, it is better to choose cloud traffic because it will be more profitable.
If you have a big volume, it is better to choose the server type. So if you have a lot of traffic, feel free to take 2-3 licenses for different GEOs, for example, America, Europe, Asia - this way you will cover the bigger part of the world and can avoid traffic loss.
Tracker functions
A tracker offers a large variety of functions that help media buyers with optimization and simplify their work with data. We divided its functions into 4 parts.
1) Stats collecting in one place
A tracker collects all data and enables you to monitor stats quickly in a handy format. You have a chance to analyze different metrics and their dynamics shown by day for any period. To such metrics belong:
Clicks;
Costs;
Conversions;
Approved conversions;
Languages;
Cities;
Device type;
Operating systems and their versions;
IP;
ISP and many others.
If you do not use your tracker, you have to collect all data manually from your ad and affiliate network account to an Excel table (or similar programs). And what if you drive traffic from different affiliate networks? And if you test 3 push networks at the same time? It can take very much time... And a tracker will help you to save it!
2) Traffic analyses for its optimization
You have collected data in your tracker, what's next? The data is collected into a table, which you can build the way it's convenient for you. Most of the trackers allow only up to 3 table layers. You will find below an example of a full spreadsheet - by campaigns, offers and subLists: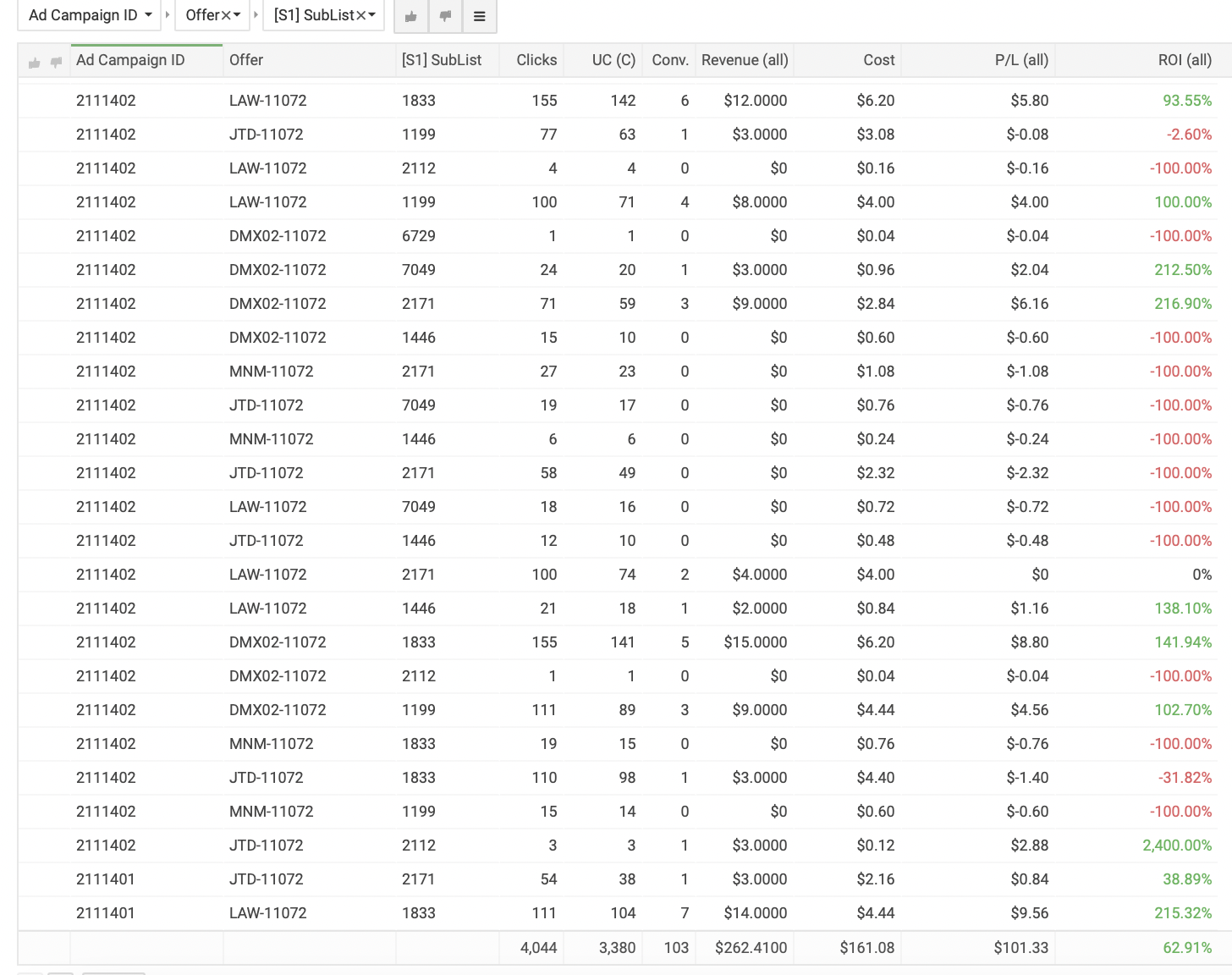 Now you can easily optimize campaigns with this data. We will show you what exactly in the next part of the manual.
3) Split testing of prelanding pages and offers
It's not always the best decision to drive traffic to only one offer, especially if you've just begun. It is better to launch split testing, consisted of 2-3 offers, and it is even better if the offers are from different affiliate networks. Thus, you can increase your chances for high profit. A tracker enables you to create different streams for different cases, by that simplifying the work of a media buyer. As a result, the united link is created, which remains unchanged, and if you want to test something new or to switch it off, you have to operate at a loss. You don't have to be moderated, wait, etc. Two clicks and everything is ready!
4) Spreading traffic according to parameters
In many trackers there is such a function as "Rules". With their help you can spread traffic and create a more relevant audience, for example, aiming it from different creatives to different offers.
In other words, this function gives a chance to divide the audience into segments with the purpose of profit increase (of course after stats analyses).
Let's launch the tracker, using Keitaro
And now we are at the most interesting part of the manual. We will show you how to set affiliate networks, offers and traffic sources in the tracker, as well as the process of the analyses of ad campaigns.
How to add an affiliate network
To add an affiliate network in Keitaro, we need to go to the certain tab and click on «Create»:

You will see a window, in which you can enter some information about parameters, which the affiliate network (AN) provides, a link and a postback. As every affiliate network has its own settings, a manager will help you to study it out.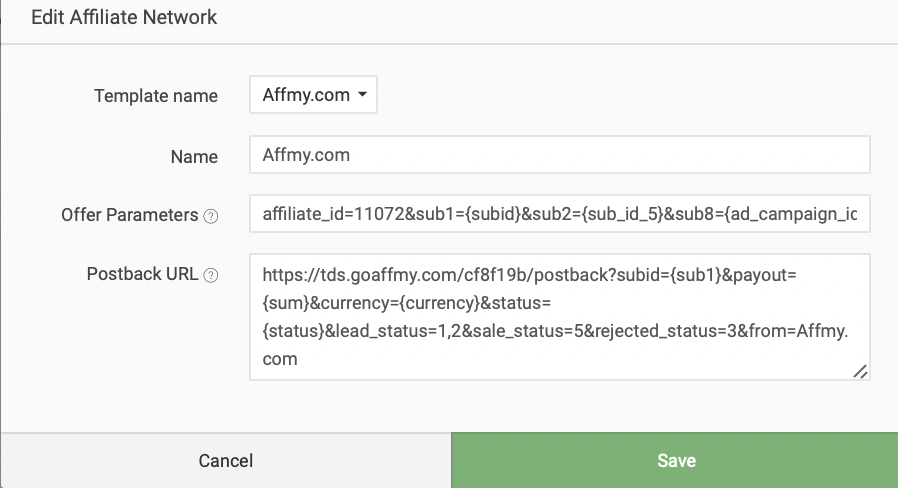 How to add an offer
Before we launch a campaign, we need to add offers, to which you are going to drive traffic. To do it you need to open the tab you need and click on «Create»

You will see the window, in which you need to write the name of the offer, choose the affiliate network and enter the link from the page of the offer in AN: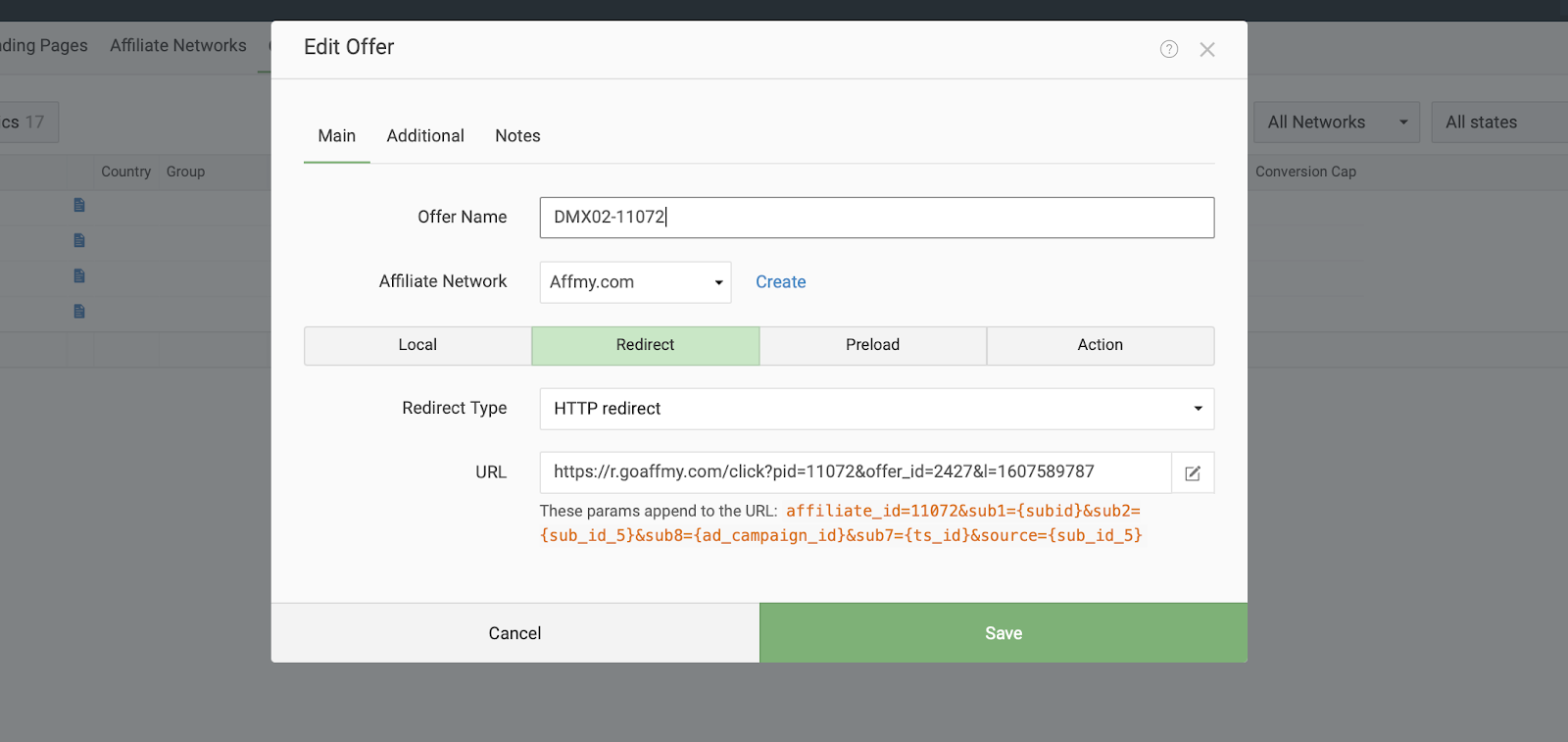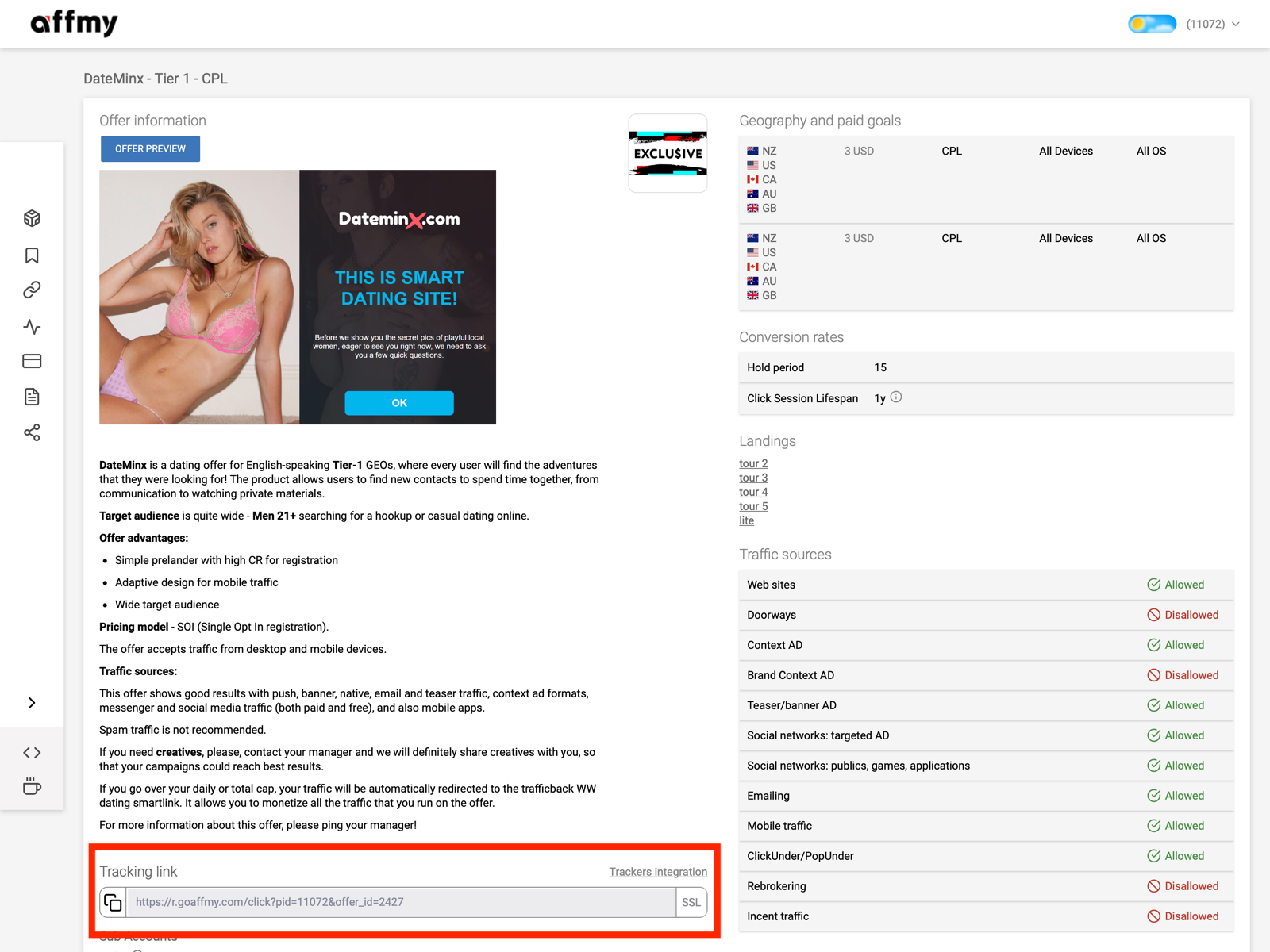 We add all the offers we need and go further.
How to add the traffic source
The next step is to add the traffic source, let's take a closer look at the setting of RichAds. We go to the next tab and create a new one:

We open the name and paste the postback, which is offered by the network itself in the opened window. There will be parameters, which the source can provide, and with their very help we will further optimize an Ad campaign (AC).

RichAds can provide you with campaign number, creative number, subList, publisher, country, city, operating system, that's why in this case the settings will look this way: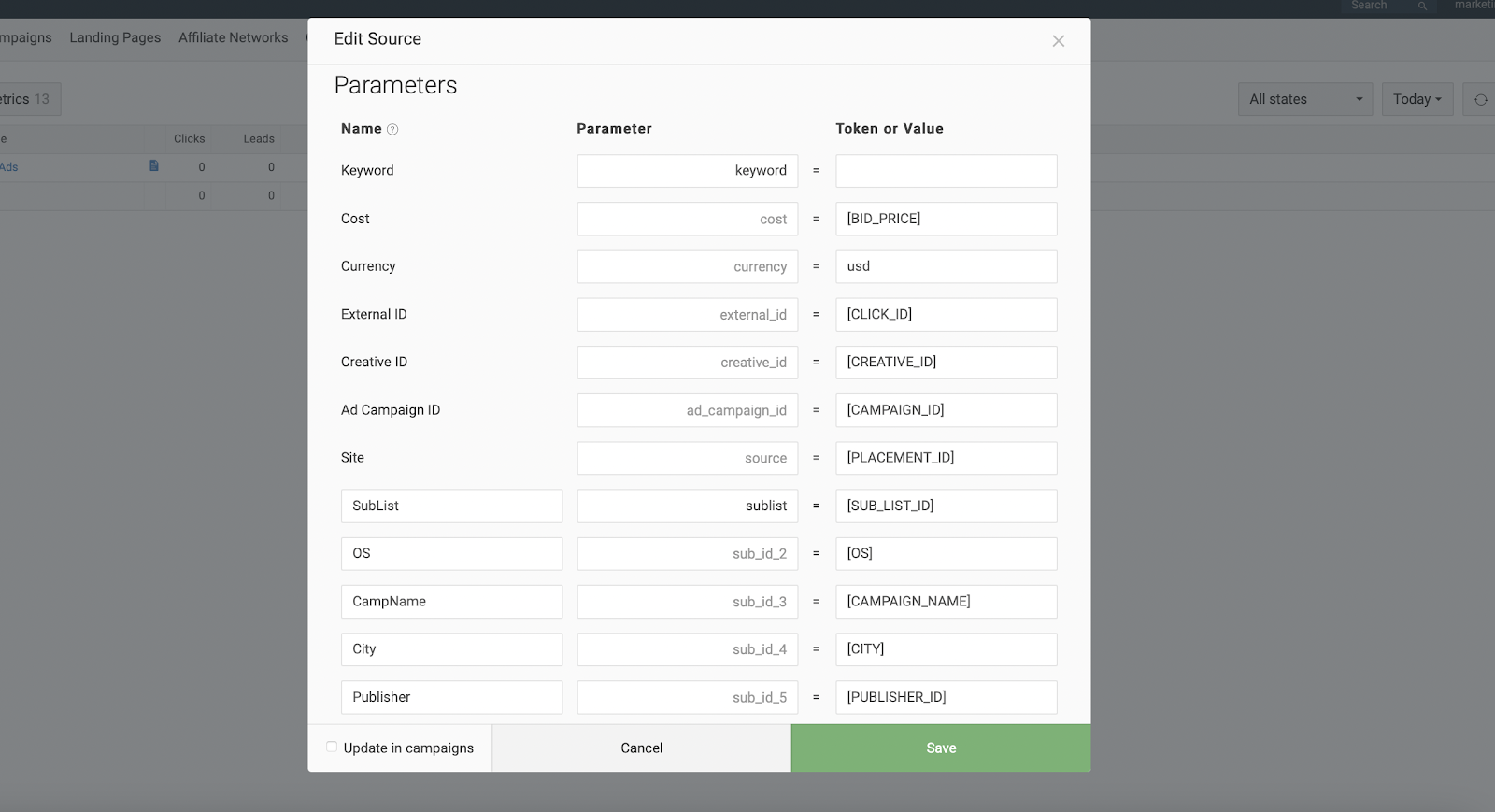 How to set a table for analyses
Before we start analyzing campaigns, we add metrics, which we need for it. To do it, we go to the tab you need and add everything that helps us in analyzing.

At the start, we recommend adding such metrics as clicks, unique clicks for campaign, conversions, revenue, cost, profit, ROI and EPC. You can change the table quickly as well, proceeding from the vertical you are working with at the moment. For example, if you drive traffic to SOI offers, there is no need for approval rate data, and if you drive it to a natural vertical, it is essential.

Stats analyses in Keitaro tracker
SubList exclusion
The traffic comes from a number of places in ad networks: they can be called subLists, feeds, zones, etc. You can open stats according to them in the tracker, and monitor a minus ROI, after that you can go to the network and add them to the blacklist so that to exclude traffic that doesn't bring you profit.
Note: if an ad network has a micro bidding function, which allows you to change the bid at a certain place, you can use this function. Due to EPC, you can monitor what bid will lead traffic at least to zero.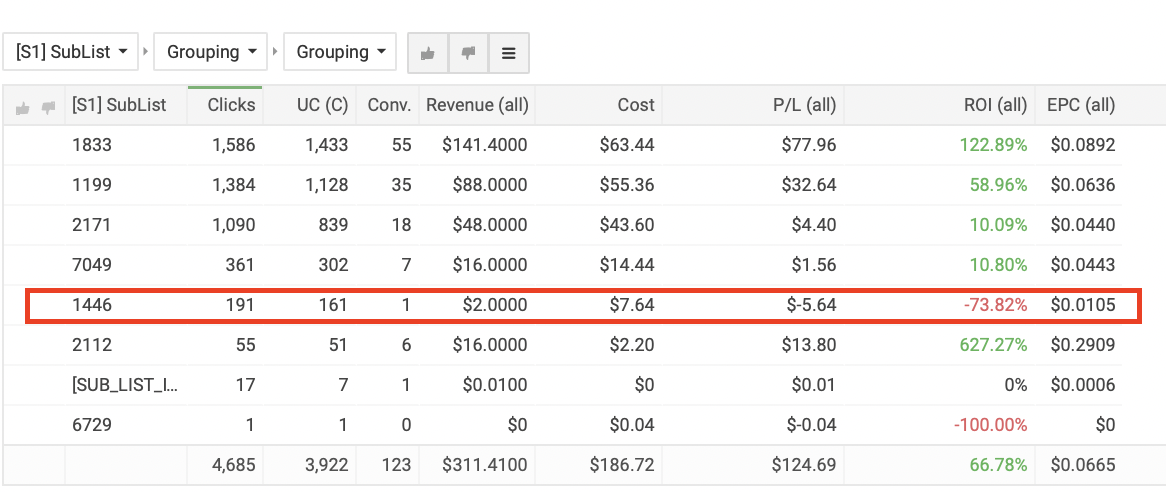 Turning off OS versions
Some versions of OS can also suffer losses. We open stats by OS and at once see the negative profit. You can set targeting by OS versions in some networks, that's why you can turn off the ones with negative metrics.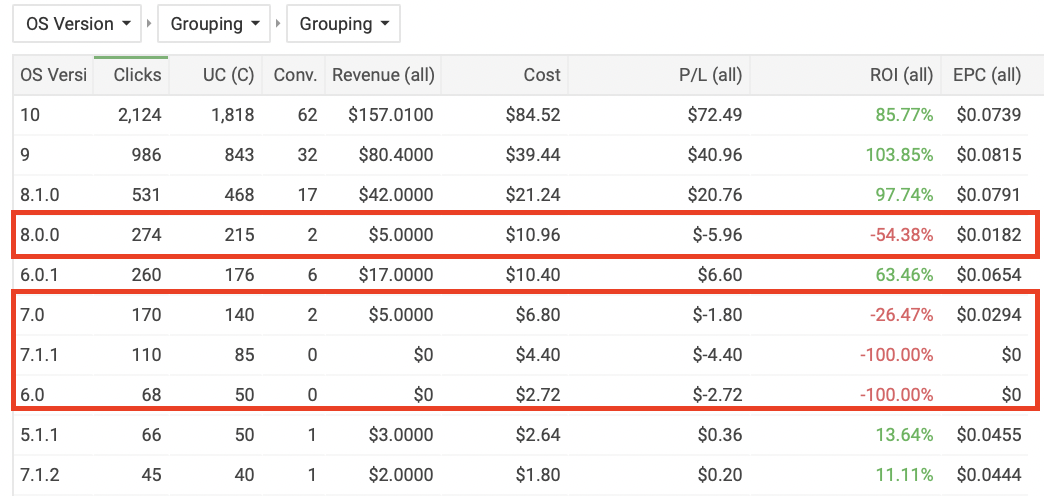 Analyses by creatives
There are several variants of situations, which we can see if we open stats by creatives:
There are creatives with minimum ROI. We turn them off and launch new ones if it is necessary.
There are no creatives with negative results, but there are obvious leaders, as we can see on the screenshot below. Then we can either leave only the top ones or to choose more stats for a straightforward decision.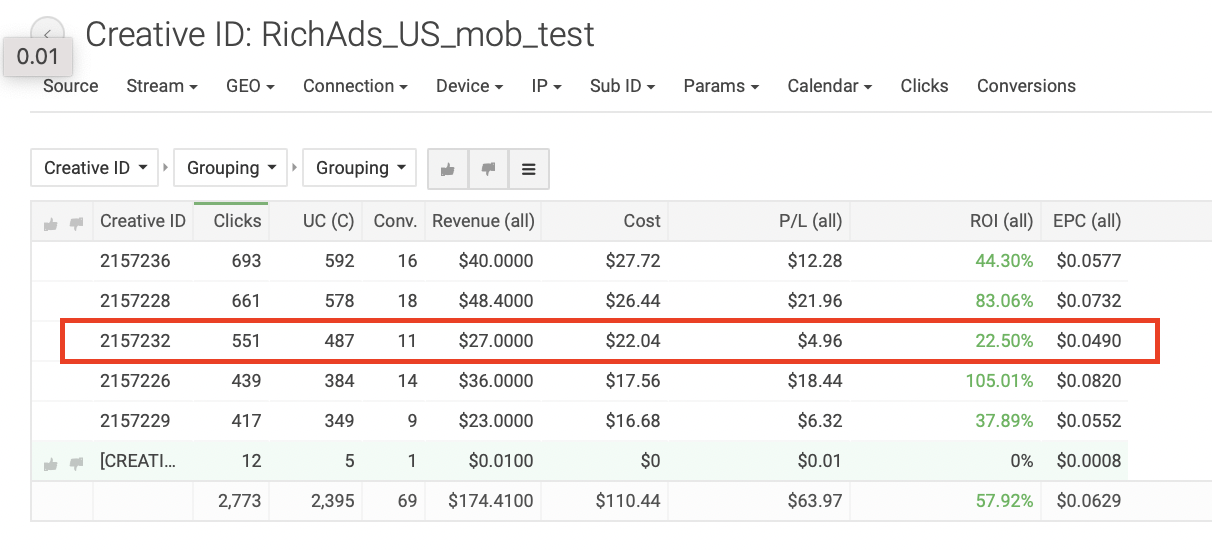 There are true leaders by the amount of traffic. The top ones have 1000-2000 clicks per day, the others - 200-300. In this case, it makes sense to leave creatives with the biggest volume and to add new ones if you wish.
Analyses by cities
Sometimes it is helpful to use targeting by cities or by regions. To exclude some of them you need to gather enough traffic to minimize a possible mistake.
Below we show in what case you cannot make a straightforward conclusion about which city you should turn off: there is very little traffic, and even though ROI is -100%, it can be changed after 1-2 leads. And still, you should not forget about this function and check the stats from time to time.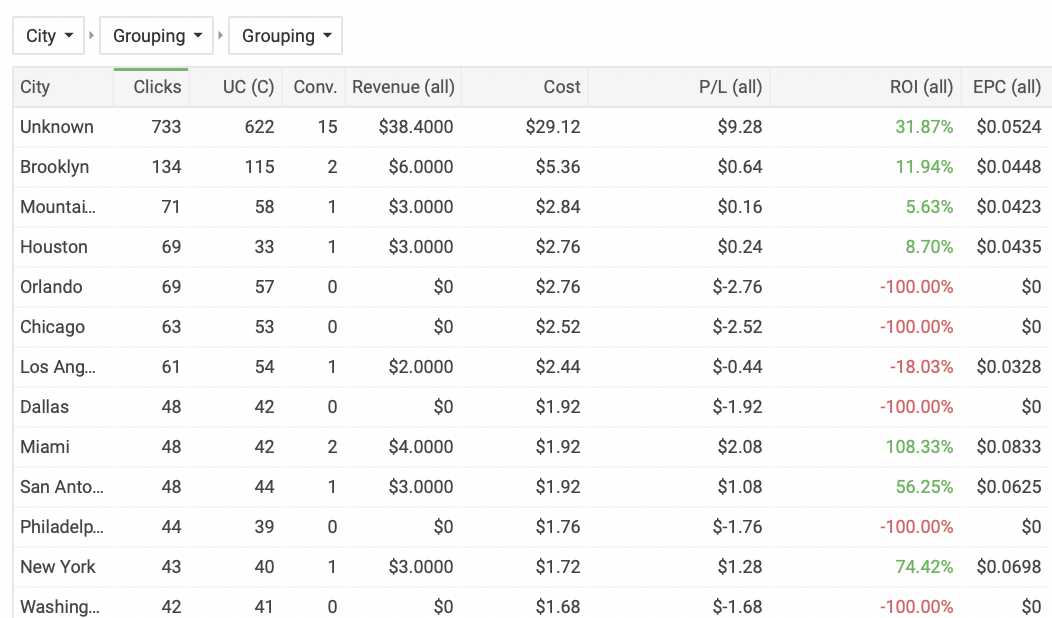 Split testing
One of the most useful functions of a tracker is split testing, as a result, you can define the most converting case.
To begin we need to create a stream or several streams to which we want to drive traffic in campaign settings. It can be several cases with prelanding pages with offers or several offers from different affiliate networks or any other combinations.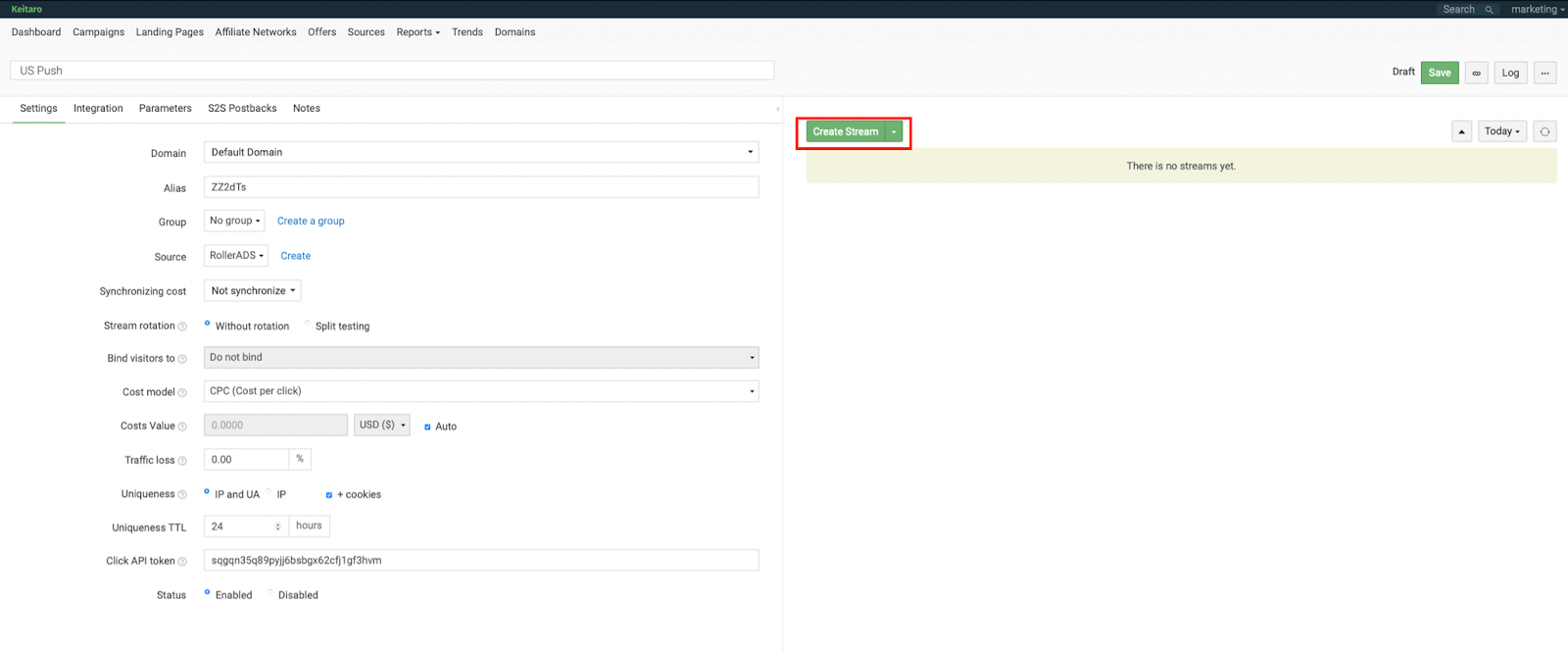 We create a stream from 4 offers in equal ratio (25%), without prelanding pages. We recommend splitting traffic equally to every stream at the start, it gives you more smooth statistics for further analyses.

After the campaign is created and the stream is set, you need to copy the link from the tracker and paste it to your AC, where you will drive traffic. Now you can correct the streams, add offers and prelanding pages, WITHOUT changing the link in your ad account.
How to set rules in trackers
As we have already written above, sometimes you need segmentation, which you can make with the help of rules in the tracker to drive traffic to your campaigns efficiently. Let's take an example: we drive traffic from a certain region to a certain offer. Suppose we realized that the traffic from New York and California is good for different offers.
We create a stream in the campaign settings and choose the offer which brings better results from New York in "Schema" tab. Then we go to "Filters" tab and add a filter by regions, in which we leave only New York.

To launch an AC using the rules, we need to create 3 streams. The second one will be identical to the first one, it will only have another offer and the city (California instead of New York), and the third one will take the rest of the traffic. Why do we need it? Not to lose profit, limiting the traffic by only two regions. And now we will show you the third stream setting: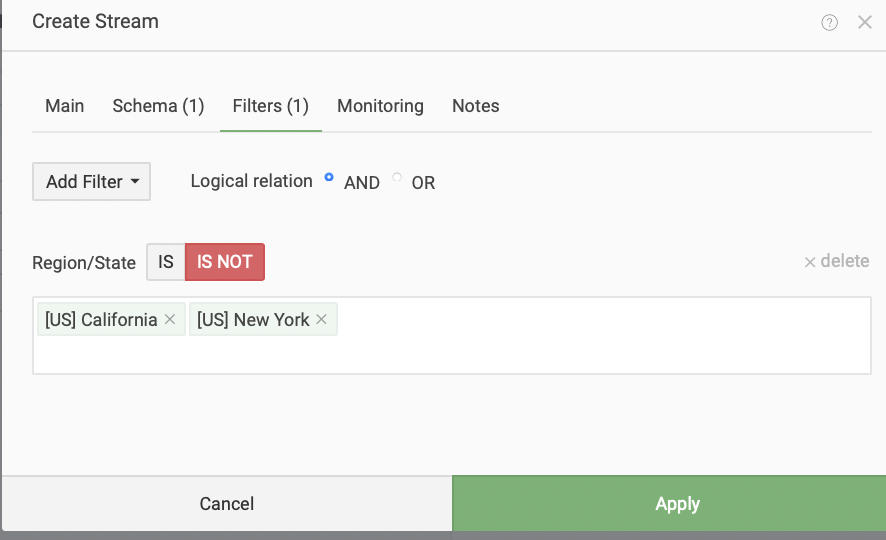 You will have an opportunity to increase your profit, using more specific traffic settings due to this function.
Conclusions
Tо summarize we conclude the following:
There are different trackers for different demands. You need to understand what traffic volume you will drive through it and what GEO you will work with.
You can use a free trial period (several trackers have it), and realize whether it suits your needs.
Tracker has a lot of functions: you can collect the data for campaign optimization, split testing of offers and prelanding pages, creating of rules for more complex optimization.
it's up to you whether to use the tracker or not, but it's highly recommended to use it for push notifications and native ads, otherwise, it will be very hard to optimize an AC and to have positive results.
Thanks for reading till the end! Now you acquire all the necessary information to use the tracker and to get more profit.
And now here is a bonus for the most attentive readers:
Using "AFFMY" promo code, you will get a 20% discount for your first purchase of Keitaro!
And you will get a 30 days trial and a 40% discount for the next month for Binom if you use the "AFFMY" promo code.
We wish you high profit and converting creatives! And if you drive traffic to dating, go to Affmy, get the most attractive offers and achieve new heights!