How to become a media buyer: from 0 to the first payment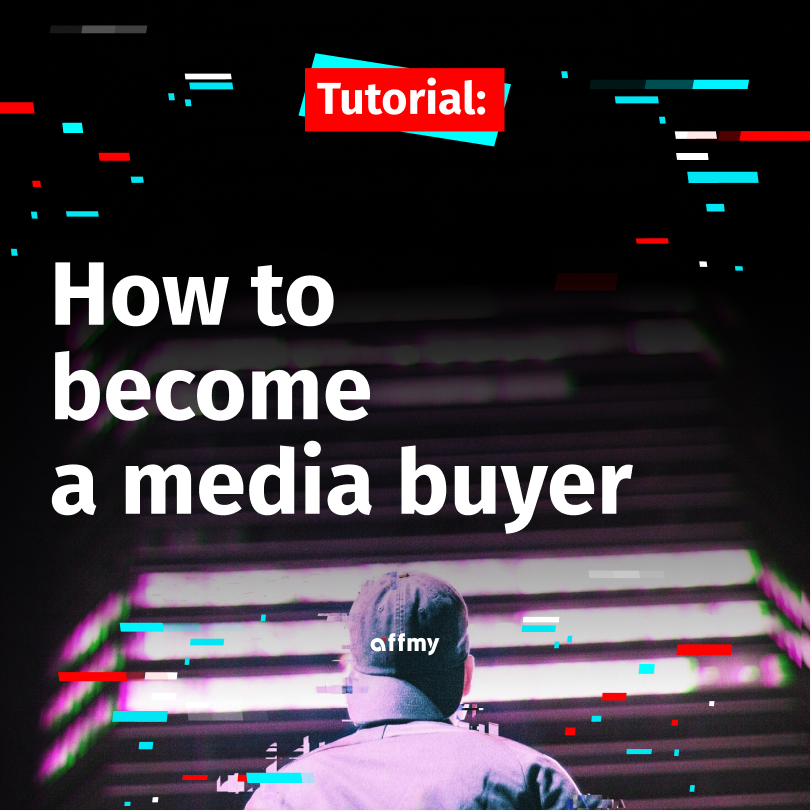 In this article, we'll talk about the basics of media buying using the dating vertical as an example. Dating constantly develops and enters the top verticals on merit because people's desire to communicate, date and have a relationship is always relevant.
Hey! We think that you often listen about media buying, partnership marketing, CPA-networks, etc. Certainly you want to have a passive income or you are tired of working for somebody and decided to work on your own. If you are reading this make sure: you are almost a media buyer! And now we will tell you what media buying is and what it is all about.
What are you supposed to do to become a media buyer?
But first things first:
You need to tell yourself with confidence: " I want to become a media buyer ". We believe you have already done this :)
To choose a vertical you want to work with.
To determine your budget and traffic type.
To choose an affiliate program and offers.
To launch your first campaign and to optimize it, having analyzed the results of the first test.
To make conclusions and scale campaigns.

A small intro
They say that media buying brings crazy money. Is it true? Of course, you asked this question. Let's dispel the mystery: on average beginners get from $ 1 to $ 500 per month, middles - $ 500- $ 2,000, the top ones - from $ 2,000 and more. Let's study out whether you can grow from a beginner to a top specialist quickly.
First of all, you should pay attention to the fact that there are plenty of media buying courses on the Internet. It's hard to say that all of them are useful and important both free and paid ones.
If a person has never driven traffic, why should you trust that he/she can teach you? Everyone who drives traffic, having a big profit, makes it silently. Well, almost everyone.
The majority of internet marketing fraudsters sell a «money button» and nothing more. We can not deny that there is a lot of content of high quality, including different courses and tutorials but you need to choose them carefully, as well as consult your team-mates, e.g. in Telegram chat rooms. If you need the list, we will gladly share it with you, just ask!
Now. The first thing you need to remember is: there is no «money button». As well as a miraculous formula. You will have to invent this «money button» and to do it, you have to work a lot. But first things first.

How to choose a vertical?
First you should study out a vertical and choose the one you are going to work with. Verticals are the spheres that unite certain types of offers. They are clearly separated from each other, and each has its own characteristics, various efficiency indicators and different tools. That's why you need to choose where to drive traffic.

What skills do you need?
Very often a fresher gets to media buying with a certain basis: experience in product targeting, SMM, design, copywriting. Having one of these, you can become a media buyer. But to achieve perfection, you need all at once:an ability to write texts, launch campaigns, make creatives. And the most important is an ability to analyze and optimize.
You also should not forget that you spend your own money, working as a solo media buyer. And it means that to get a profit is your most important task!

What is the point of media buying?
In simple phrase it is «buy for a lower price - sell for a higher price».
What do you buy? Traffic.
What is traffic? People.
What do you sell? Offer.
What it looks like in practice: you have already chosen a vertical and allocated a budget, next you should find an affiliate program, in which you will take an offer. So, you will «drive traffic» to it.
Why should you start with affiliate programs? Direct advertisers claim the stats for the previous period, they have high KPI, that's why to go directly, first you need to "gain weight" of the status.
How can you do it? Work. Collect stats, optimize campaigns, do split-testing of new offers and creatives, optimize again - and so on to the infinity. And do it with the offers from the affiliate program. It seems easy but there are always the «BUTs». So let's study out.

How to choose an affiliate program?
You should clearly understand that an affiliate program is an offer reseller. What does it mean? There are some advertisers, who do not give offers to newcomers and even average media buyers directly, you need large volumes and good traffic to work directly. But you have a way out - an affiliate program, as it is an intermediary and unites offers from many direct advertisers.
The main criteria of choice aren't the quantity of offers and not even CR, as you can find the same offers in different affiliate programs. Initially, you should look up the information about an affiliate program, contact managers, examine hold periods, payment methods, quantity of offers for your GEO, exclusives or inhouse offers. An inhouse is an affiliate program's own offer, which makes it a direct advertiser.
For example, we have more than 10 inhouse offers of dating for Europe and North America, to get them, contact our managers!

What is a hold period?
This is the quantity of time, which passes from the moment of conversions made to the moment of the advertiser's approval. First, the conversions have "Pending" status in affiliate programs and wait for the quality approval by the advertiser. As soon as the advertiser confirms the conversion validity, the status will be changed for "Approved" and it will be ready for payment.
Why does an affiliate program use a hold period and what is an average one?
It needs a hold period in order to get feedback from your advertiser about your traffic: to what extent it was targeted and whether it was active. If everything is OK, you get your honest money. Usually, a hold period is 10 -14 days.
Some freshers are searching for easier ways to earn money in the media buying sphere (at least they think so). As a result of dingy moves, they really make money but don't stay for a long time in the affiliate program. ALL the grey schemes of conversion obtaining sooner or later become visible, and the affiliate program, in its turn, bans the affiliate. In the end, you earn nothing.
If you don't have your conversion approved, it's not always the fault of the affiliate program. Most likely, the advertiser didn't approve your lead or suspected fraud (an offer advertisement with the usage of prohibited methods and on prohibited sources), did not count your conversion in the affiliate program. And only after that, the affiliate program declines it in your stats.
You should always work honestly, this is the only way that will help you to grow from a beginner to a self-made media buyer, and then gather a team. Well, the boring part is over, the most interesting part comes next. Now we go on!
What are traffic Sources?
Many affiliates from Russia, Asia, and CIS countries use free traffic with some paid options: spamming in messengers and social networks (TikTok, Instagram, Telegram, etc.), SEO.
There are also different types of paid traffic:
Search traffic and context ads in Google, Yandex, Bing, Yahoo, etc.
Traffic with targeted ads on social networks: Vkontakte, Odnoklassniki, Facebook, Instagram, Twitter, Youtube, Reddit, and others.
Display traffic: banners, push notifications, pop-unders, traffic from native and teaser networks - from different sites and applications. You can buy it in specialized networks.
Video advertising: Youtube, Vimeo, TikTok and various other video ad networks.
Email traffic. You can make your own subscriber base or buy it.
Working with paid traffic, you can quickly test different theories: make a new case (relevant creatives, a pre-landing page, offer), buy some traffic, monitor efficiency, optimize - and here you are! Then you only monitor the stats, analyze and optimize it, and repeat two previous actions :)
Free traffic with some paid options, in its turn, doesn't always allow testing a campaign quickly. Besides, the paid traffic can be easily scaled: if your case is profitable, you can increase your budget and scale the campaign. Opportunities to do the same with free traffic are very limited in this case.
We want to add to the said above the following: be realistic and don't hunt for the unattainable. Your abilities enable you to launch ad campaigns for $10-$30-$50-$100-$1000? It's great, you can start with it. You should define where you drive traffic, what source you choose, and where you will take offers from.
Where is it better to buy traffic?
First, you should understand your vertical well, as not all can be easily bought from Google or Facebook. You will face freezes and bans and other troubles all the time, you will bury not even one account, and the result is not guaranteed to be huge. Some verticals are better to be launched with teaser and banner networks, push notifications, email-newsletters.
How to choose a tracker?
When we speak about it, first of all, we want to mark dating offers. Mainly because dating is a stable sphere, which from year to year is still relevant due to its main characteristics, since people's desire to meet and date never vanishes. We advise choosing this very sphere as it is a pot of gold for media buyers.
Dating offers vary a lot: by target audience, by type of offers, by payment methods, by traffic types, which they receive. To choose an offer which converts well in your very case, you only need to register with Affmy: our manager will contact you and tell you about everything you want to know. We also need to mark, that Affmy is a direct advertiser, and it means that here you will find exclusive offers with high CR, which can bring you high profit.
What payment methods are available?
SOI = Single opt-in. Users filled in their profiles and pushed the "register" button.
DOI = Double opt-in. Users should not only fill in the registration form but also confirm their email.
PPS = Pay Per Sale. You get the fixed commission for every sale, which has come from your traffic.
Revshare. In this case, you get a certain percentage from users' every purchase of this product.
We advise starting with SOI offers, as you can see their result immediately. And they are the cheapest.
What do you need to know about dating?
The dating vertical is a variety of specific sites, mobile applications and dating resources. Advertisers are interested in new users and pay for attracting them to their products.
Dating offers can be divided into two big categories:
Mainstream. Users get an opportunity to have long-term relationships with its help.
Casual is oriented to dalliance and flirting.
There are also different dating niches which enable one to search for partners according to different preferences: race, age, religion, politics and so on.
Mainstream offers are easily moderated in ad and social media, Google, and CR is rather high. However, there is not so much mainstream traffic and it costs more. There is a lot of casual traffic, it is cheaper and you should buy it in big volume, to test campaigns efficiently. But when you work with casual offers, there can appear problems with moderation: not all ad networks are ready to have this content.
It's important to know: free traffic works on dating offers, but it will be hard to test campaigns. Source searching, settings, testing, stats summary, analyses, repeated tests are too long a story. It is much easier to work with paid traffic.
To sum it up, here is the list of things, you need to start your first campaign:
Budget. You should plan reasonably, value your abilities.
Offer and tracking link. You should choose several offers for split-testing.
Creative. It can be an image or an image with a text. Keep in mind that the visual part is very important, that's why you should choose wisely and creatively.
The chosen traffic source or network. Test several ad networks to find the one which fits most.
It often happens that campaigns do not convert for the first time. In this case, you should try to change creatives: probably they are the reason. How to make a converting creative you can find in this tutorial.
You can also try another traffic source and compare them. And you certainly should contact the ad networks managers - they will help you to optimize.
If you have found the converting case, scale it! Analyze the stats and buy more traffic. Like any sphere, this one has its own nuances and further, we will certainly tell you more about them.
It's time to summarize
Today you have learned about media buying basis, using the example of the dating vertical. As we have already mentioned, dating constantly develops and enters the top verticals on merit because people's desire to communicate, date and have a relationship is always relevant.
We should also mark a balance of simplicity and quality: there is nothing difficult about creatives making, and when you find a converting case, the profit won't make you wait for too long. The most important thing is to use qualified sources of traffic, as well as not to forget to use reliable networks.
And now you can bravely go to the great interwebs, as an incredible path of media buying awaits you!