Case: Exclusive Dating offers of Affmy in US with 35% ROI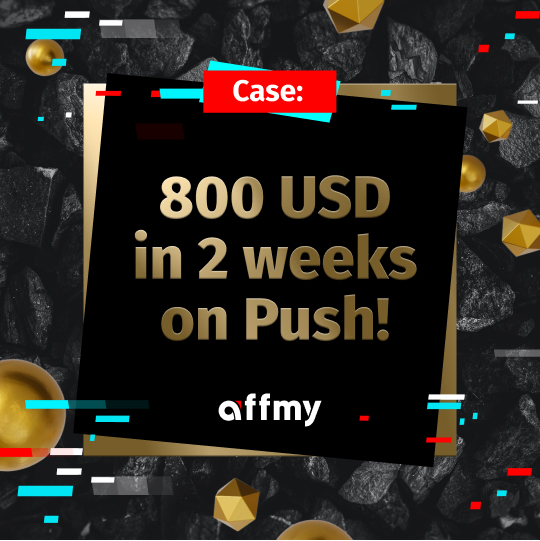 Hey everybody! It is Affmy speaking - a media buy team and today we will tell you how to drive traffic from RollerAds to our exclusives. We take three offers: DateMinx, JoinTheDating and MapMyMilf  (by the way, we haven't tried this one before).
Case: Exclusive Dating offers of Affmy in US with 35% ROI
Hey everybody! It is Affmy speaking - a media buy team and today we will tell you how to drive traffic from RollerAds to our exclusives. We take three offers: DateMinx, JoinTheDating and MapMyMilf (by the way, we haven't tried this one before).
Traffic Source: RollerAds
Advertising format: Push notifications
Period: 01.06.2021 - 14.06.2021
Network: Affmy
Offers: DateMinx, JoinTheDating, MapMyMilf
Cost: $586.68
Revenue: $788.4
Profit: $201.72
ROI: 34.38%
How to choose a traffic source
In the previous cases we showed the traffic driven successfully from push networks and this time we have decided to test push ads of RollerAds. This ad network attracts us due to several reasons:
Minimum CPC bid – $0.001.
Helpful support.
Subscription age targeting.
Exclusive traffic monetization of all SendPulse publishers.
Different ad formats: push, pop-under, in page ads.
How to set a tracker
To optimize a campaign we use Keitaro tracker: first, we add a source (clicked "Add a source" in a certain tab and enter a name) and add parameters, which can be set in the network.
Every ad network has its own percentage of losses. As there can be too many or too few clicks in the network, costs in the tracker are not always the same as the costs in the ad network. It is better to update costs in the tracker as they are, for example weekly or monthly.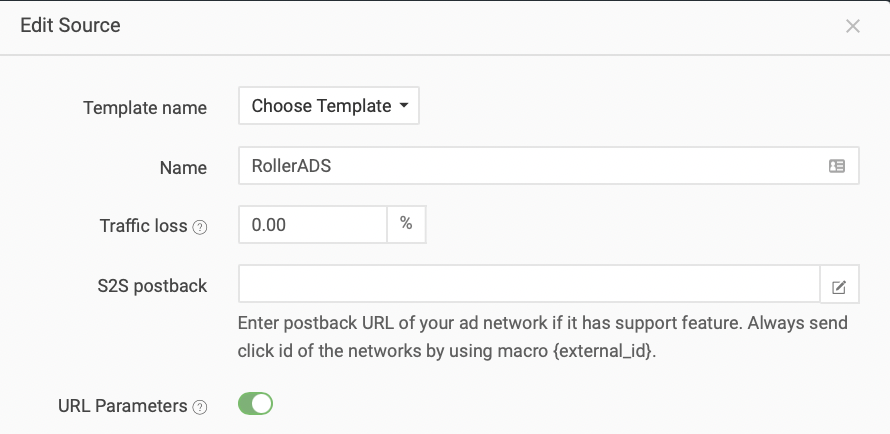 To update costs you need to go to the "Campaigns" tab, find our ad campaign (AC), click three dots, then - "Update Costs" and enter a necessary sum from the ad network. You can update it by different parameters: creatives, cities etc.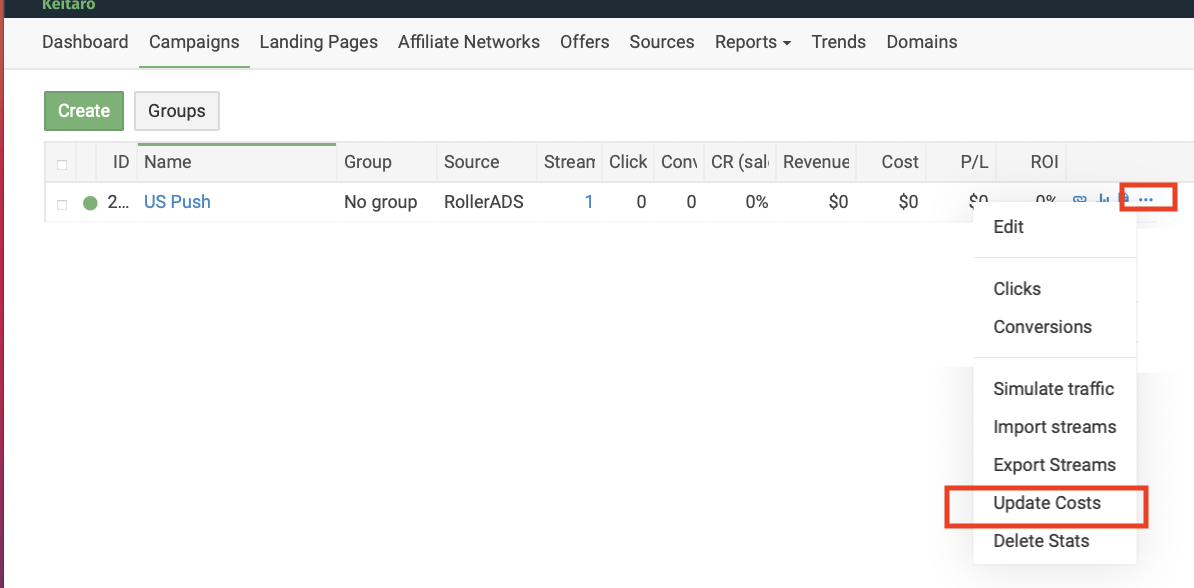 You will find some parameters below which should be specified for analyses and optimization of a campaign:
Costs.
Creative ID
AD Campaign ID.
Zones.
Devices.
Countries.
Connection Types.
ISP.
Subscription age.
Browser name.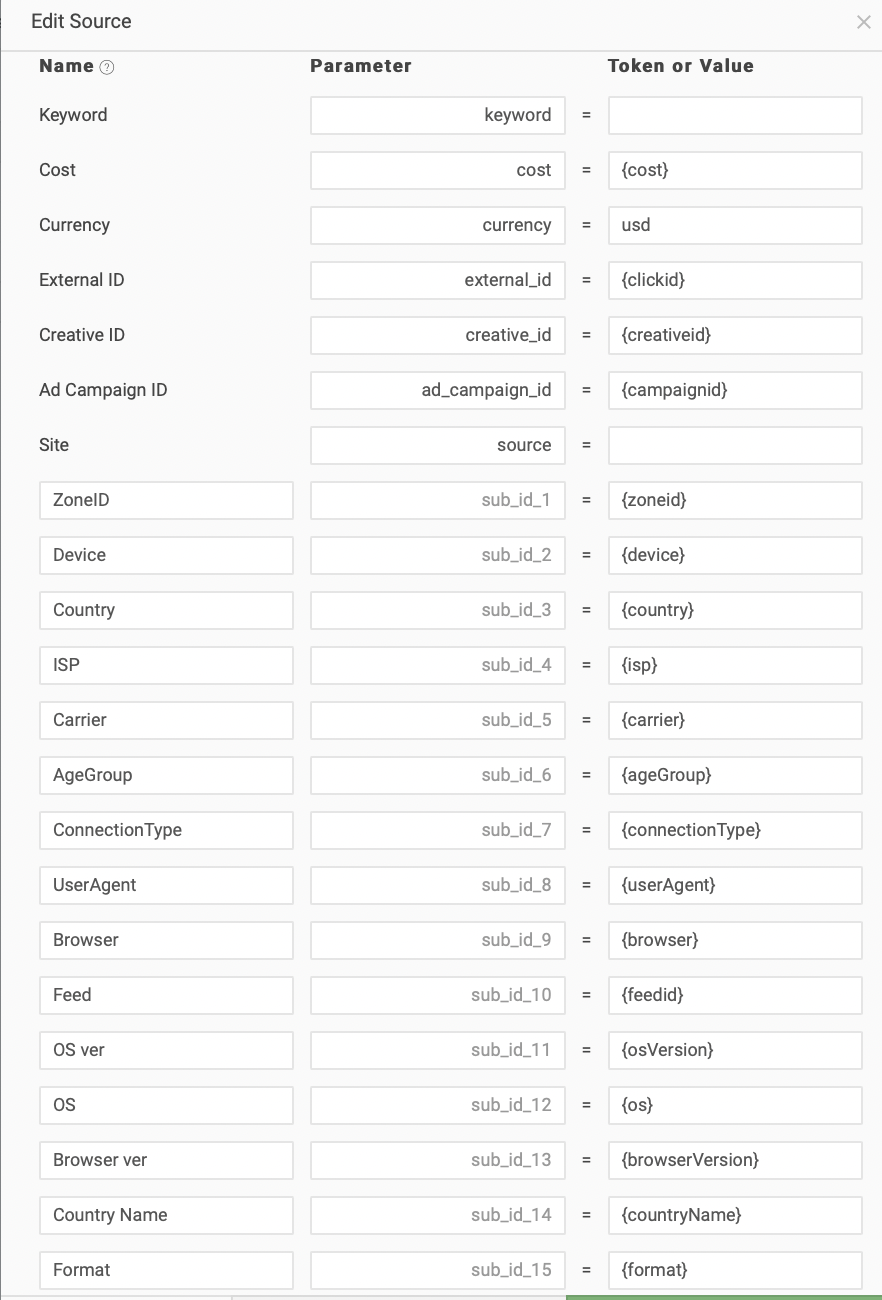 How to set a campaign
Before start working with RollerAds we need to choose ad format (it is a push ad in our case). To simplify search by campaigns as much as possible, we recommend you to give distinctive and easy names, for example US Push1 0-3. After you choose the format, you should add the link from the tracker keeping all possible parameters.
The system provides two types of traffic: all traffic and premium one. As you might guess, premium traffic is the one with the strongest demand, which constantly shows the best results of all partners of the network. As our purpose is to test the source, we started with all traffic.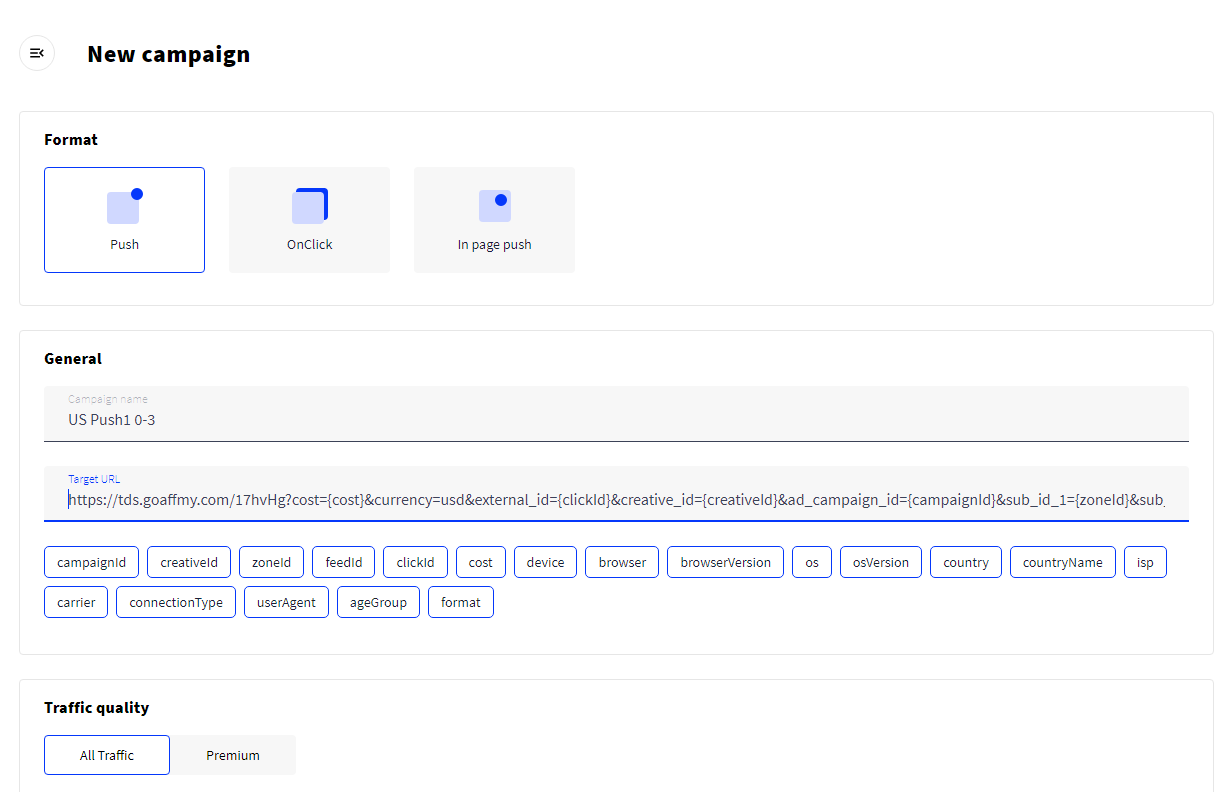 We have chosen the USA as a target geo, launched all cities and regions.
The system recommends us using $ 0.053 bid. Note: almost always this parameter is a bit higher than it is, and as we test RollerAds, we use $ 0.03 bid.
Then we set frequency capping (show 1 ad per 24 hours). It is optimal because it provides unique traffic for your campaign.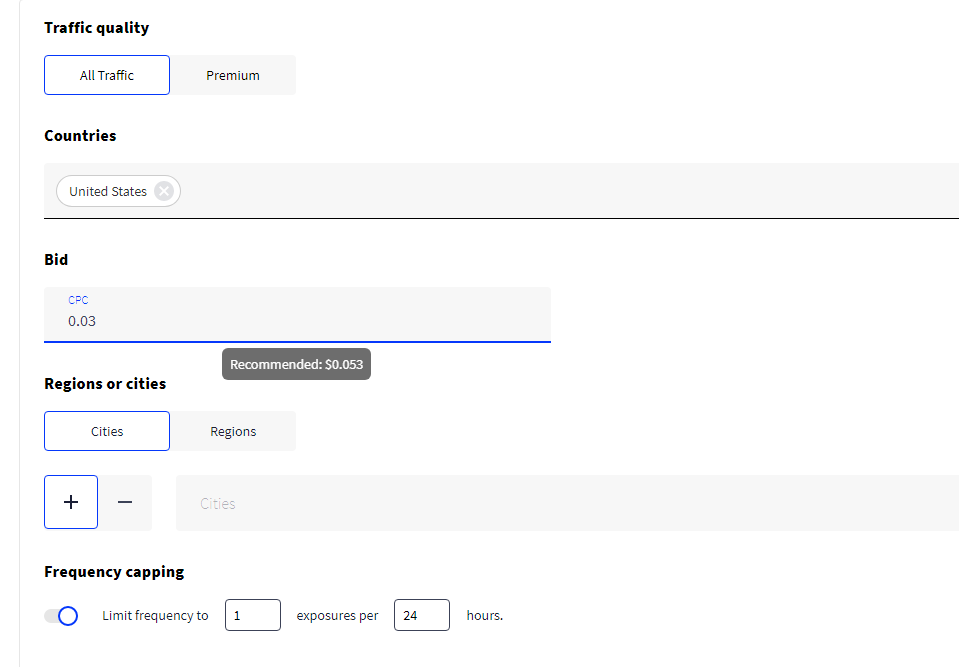 We launch 3 identical ACs, each has 3 creatives.
Classical creatives for dating push ads are an imitation of a message from a girl. Such creatives include a photo of a girl and a text. We use several photos of different styles to test which one gives better CR than others. The first creative has professional photos of model type girls, the second and the third contains selfies on the icons and photos from different angles. Here are some recommendations:
Use simple text. A nickname in the title and a provoking sentence in the description is quite enough.
Make sure that pictures are not controversial to each other. There should be the same girl (or maximum similar) on the icon and on image.
And to get converting creatives in the USA, contact the manager.
The network has a possibility to target AC according to subscription age, the audience is divided into 6 groups. As we know from our experience, subscriptions older than 2 weeks give the worst CR. Guided by this we have decided to test new subscriptions (0-15 days) and created 3 campaigns: 0-3, 4-7, 8-15 days.
Further, we choose mobile traffic and Android as operating systems. Pay your attention to a version, we advise you to use 5 and newer, as previous versions are used on old devices.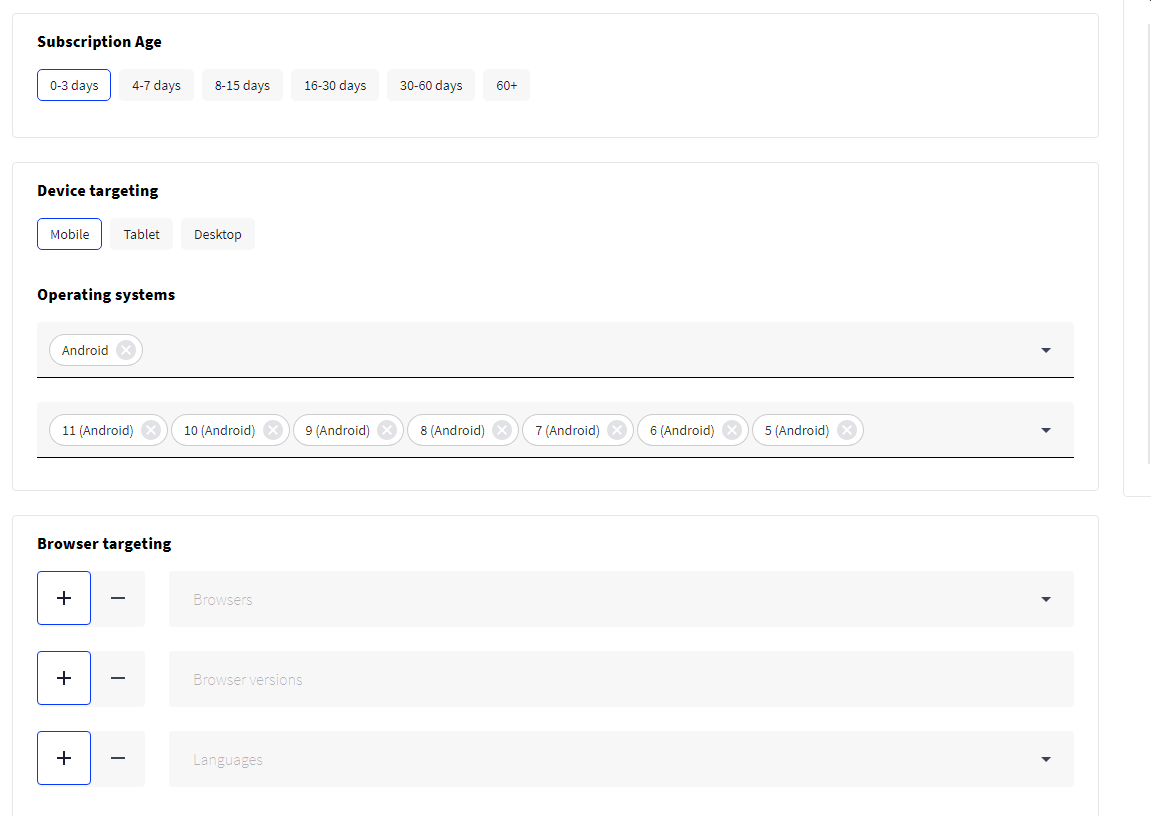 As you remember, a campaign should run 24/7. If statistics show a certain period when the ad campaign is more efficient, we will target it accordingly.
We are ready to spend $10 per creative. And as every campaign has 3 creatives, our daily budget per 1 campaign is $ 30. We set $100 as the total budget for a campaign, not to exceed the planned maximum budget.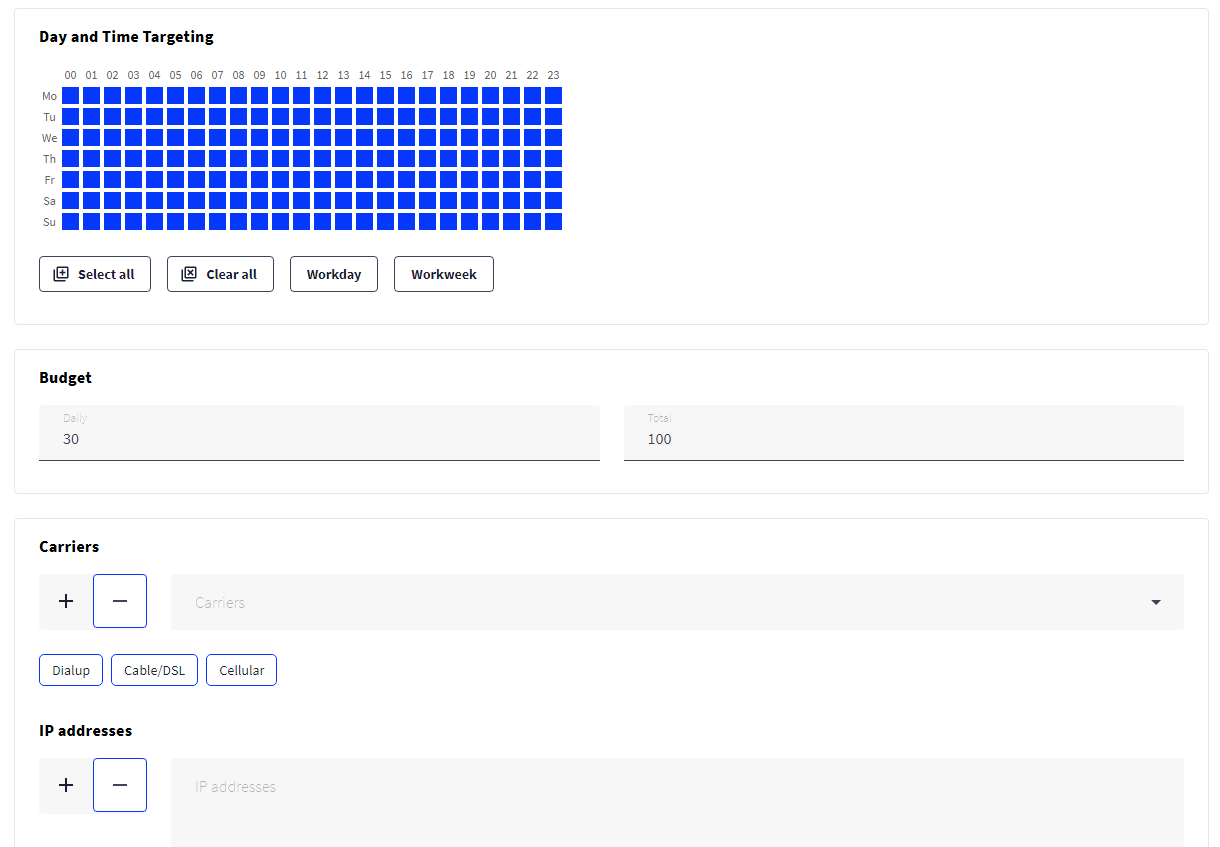 An interesting fact: Rollerads has a function of automatic optimization of campaigns according to CPA. The least converting sources, which have had some paid traffic or the sources that are no longer converting, will be disabled. Before using this function, we recommend you discussing it with our managers.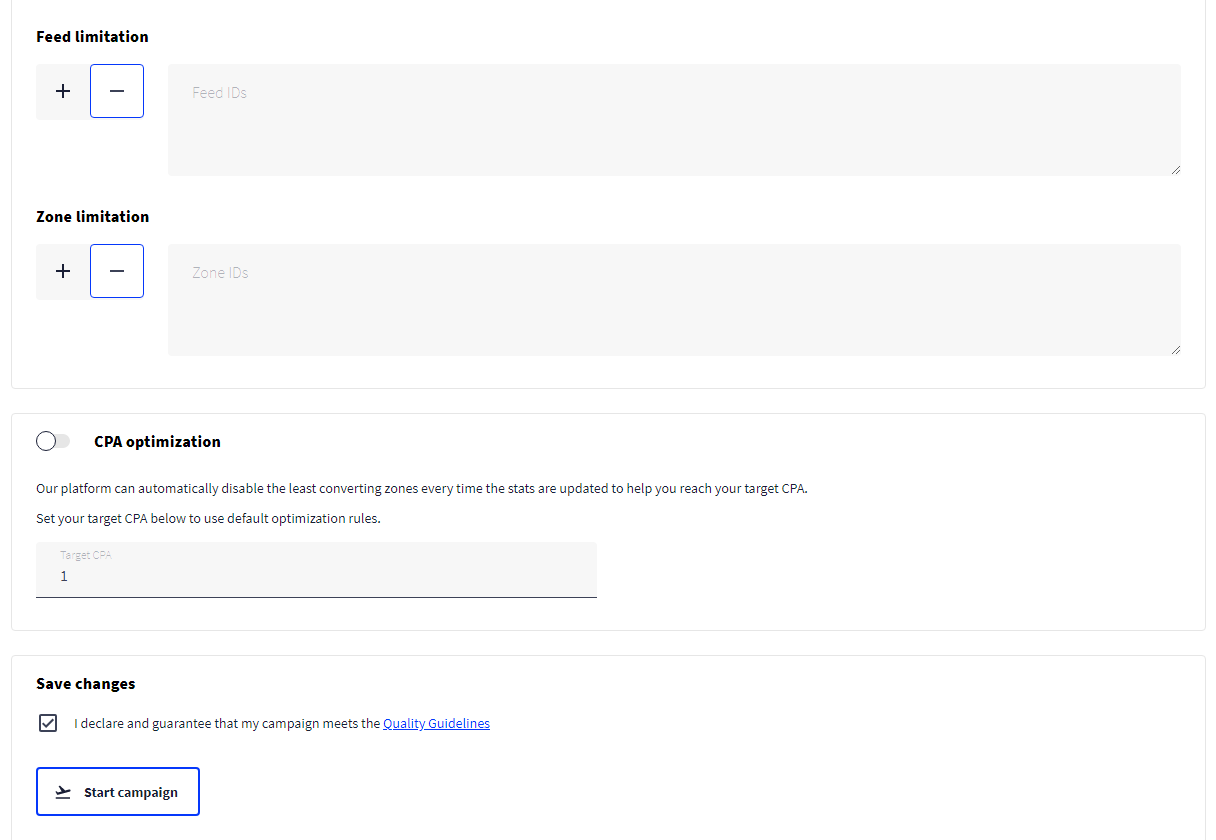 The first statistics summary and optimization
We have got the first period of stats monitoring in 24 hours after the start. In summary we have driven traffic almost for $40 with 15, 03%.ROI.
16491 — Campaign with subscription age of 8-15 days.
16492 — Campaign with subscription age 4-7 days.
16494 — Campaign with subscription age -3 days.
Campaign monitoring has revealed that all of them are profitable. The best results have shown the ad campaign with a subscription age of 0-3 days.

According to offers, we see that top ROI has MapMyMilf. We haven't switched off the other offers because we need more time to decide. It's also worth mentioning that the situation can change in several days in push traffic: ROI of campaigns/offers can increase. Users don't always click on a push ad when they see it – several days may pass from seeing the ad to clicking it. For push traffic, it is an ordinary situation and has a specific name – "late leads". Optimal period to evaluate "late leads" is about two weeks.

Then we optimize campaigns according to zones and exclude 2 with negative ROI from 10 zones. It will become clear what to do with the rest of them after collecting more traffic.
At first steps of optimization, when the volume of traffic is not big yet, we switch off the only sources, which show lower ROI than - 40%. When ROI is so low, it's not likely that these zones will show profit despite of possible late leads of conversions.
When campaigns get more traffic, you can systematically switch off all the sources with ROI less than 0.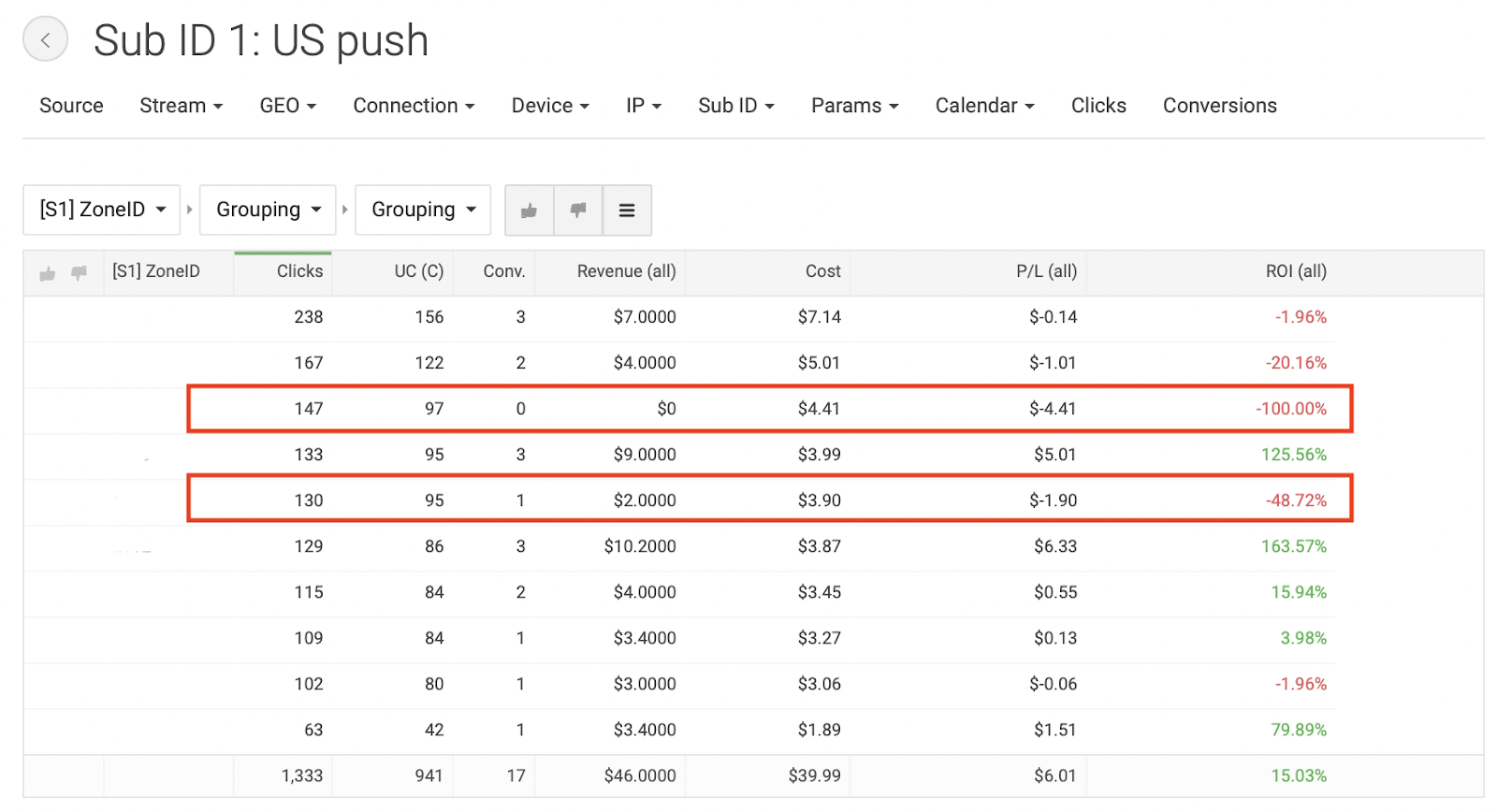 We have checked up the statistics according to creatives of each campaign and found no considerable differences. We haven't optimized anything because we needed to get more traffic.
No Ad campaign has spent its daily budget, so it means there is no need to limit the traffic. We haven't expanded the total budget of the campaigns and it most likely has no time to be driven.
The second statistics summary and optimization
After 3 days from the launch of the ad campaign, we have optimized once again.
The situation hasn't changed: 16492 has the lowest ROI, and the campaign with the freshest subscriptions is still the most profitable.
As we mentioned before, push ads may have late leads of clicks and conversions and that's why data can show better results in some time. This is the reason why we are not going to switch off campaigns now.

We have collected stats to define which offer has better CR. If we select statistics by offers, we can define the absolute leader, that is MapMyMilf (55,36%.ROI )
We also recommend paying attention to the offer, which follows the top one. It can be used as a reserve if the top one is no longer converting or in case of force majeure from the part of an advertiser. At this stage, the two last offers show approximately the same ROI, that's why we will drive a bit more traffic to choose the winner.

As you can see from the screenshot below, we have 5 sources which are profitable. All the zones with negative ROI are put in the black list, so we will test the rest 5 zones and new sources if we have some.
If you do not use the white list, new sources of traffic can be added to the stats. You should monitor them until they have enough traffic so you can make a conclusion about their quality. Mind basic rules of split testing: Do not compare sources, which gained 10 and 1000 clicks during different periods.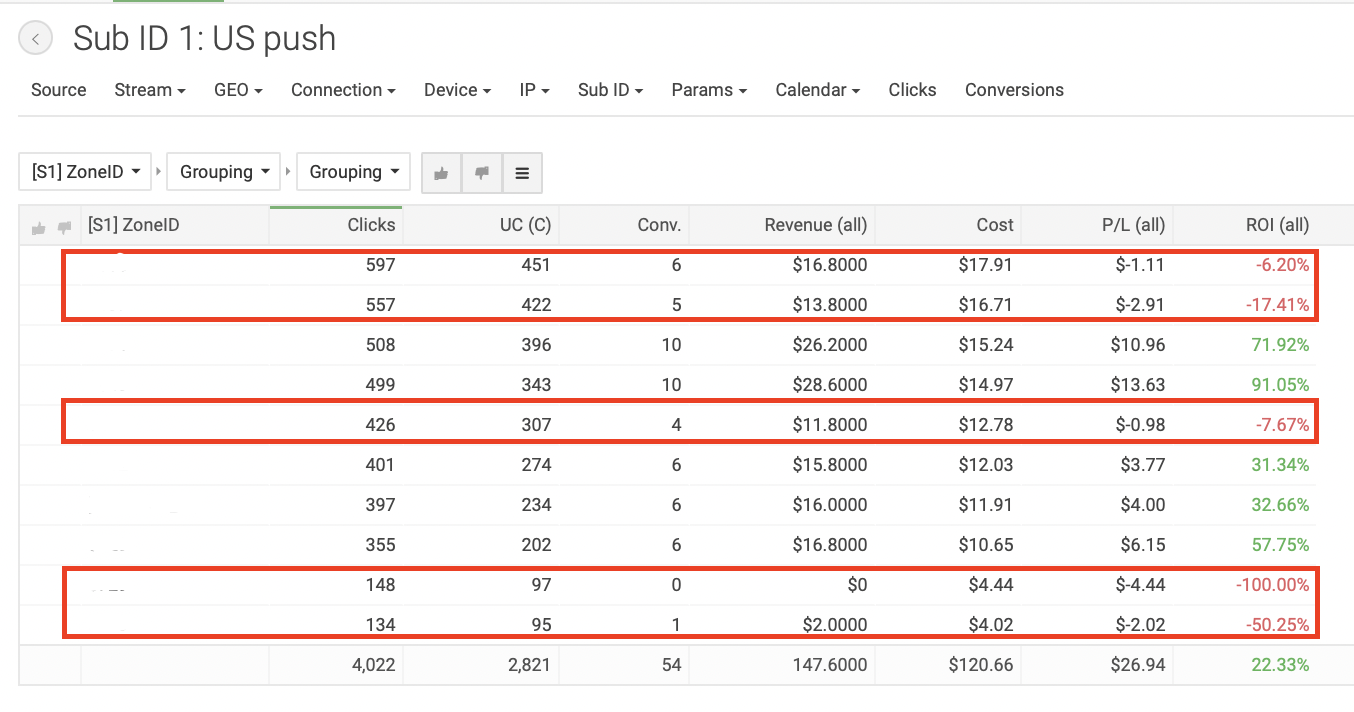 The campaign is planned to be active for 10 more days. As you remember, we set $ 100 limit to the total budget for every campaign. At the moment of the last optimization, the campaign has spent half of this budget, that's why we increase the limit of each ad campaign to $300 and we are satisfied with the current quality and ready to purchase more traffic.
The third summary of statistics
Since 10 days have passed, it's time to summarize. We got the following results for 2 weeks:
Clicks: 19556
Conversions: 292
Cost: $586.68
Revenue: $788.4
Profit: $201.72
ROI 34,38%
The statistics according to campaigns become more smooth, there is no performance gap of ROI but still the ad campaign with subscription age 0-3 days has the best ROI, that is 42,47 %.

ROI data sorted according to offers is the following:
DateMinx — 19,19%.
JoinTheDating — 34,57%.
MapMyMilf — 50,18%.
As we can see, ranking is more vivid now and ROI of offers grew in total. It is due to late leads of conversions and optimization by zones.

No new zones have appeared and the other 5 are profitable.
Maximum ROI — 53,54%.
Minimum ROI — 26,88%.
Advice: you can create a separate ad campaign for each zone and play with the bid.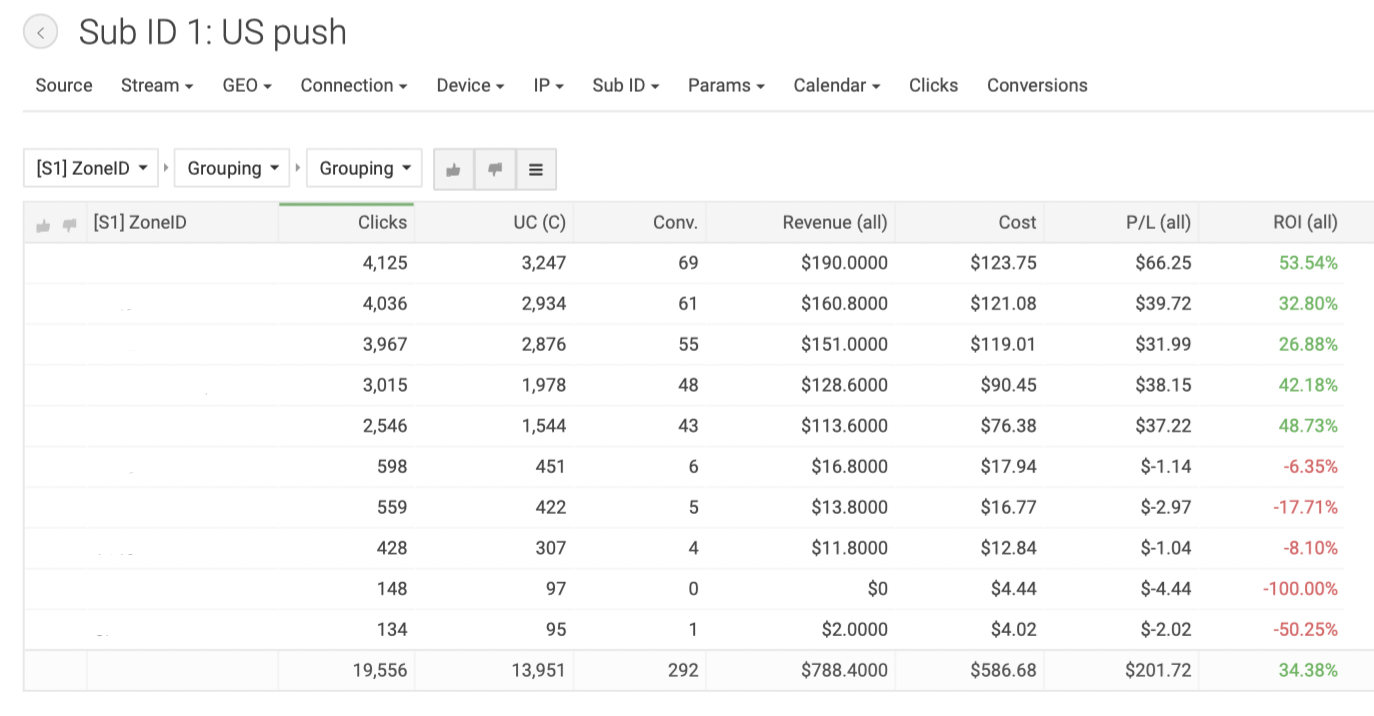 We have 3 ad campaigns and each has the same three creatives, to conclude we have summed up the total statistics of all creatives:

All the creatives are profitable but the second one gained the upper hand with 63,03% ROI and 1,79%. CR. We used «live» selfies. As we can see, such types of creatives give the best CR in push ads.
Advice and recommendations
Having analyzed the statistics of this case, we decide to give advice and recommendations, which will be very useful:
The best results show push ads with the newest subscribers – 0-3 days. Try to raise their bid and monitor the amount of traffic and ROI.
To understand which offer has better CR, use photos of different stylistics.
Even though we have given a chance to offers with low characteristics, the best result consistently has MapMyMilf. in this network. But remember that you should always have a reserve, to direct traffic to, in case the top offer is converts worse.
To optimize you can create separate campaigns for each zone, so that you can adjust bid and make all the sources profitable.
Don't forget about premium traffic: test it separately to make sure whether it works better.
You should definitely use a tracker, because it is convenient to analyze the stats and to target ad campaigns according to different data to increase the profit.
Make split tests of your offers to define which one has the maximum ROI and the best CR.
Do not be afraid to carry out experiments: try different GEOs and you certainly find the ones that will bring you maximum profit.
In conclusion, we have prepared a nice bonus for our readers!
If you register in RollerAds with « RollerAffmy21» promo code, you will get a 10 % bonus for your first deposit (for new advertisers only)
We wish you profit cases and high CR!